21-10-2022
-------------------------------------------
Navigation
Previous / Home / Heading / Next
-------------------------------------------
www.habiter-autrement.org > Construction
--------------------------------------
Aspects Techniques - Low Cost Houses
Emergency Homes for Worldwide Disasters - easily built, re-usable systems
http://www.gdin.org/proj_shelter.html
Global Village Shelters - Creating communities and individual homes for people in need - Connecticut, USA an alternative to current solutions for disaster relief housing
Moladi embarked on an endeavour to develop a system to construct durable structures of quality in the shortest possible time. This system has developed into a construction technology that addresses four key challenges embodied in the low cost housing shortages facing developing countries namely: lack of resources, insufficient funds, shortage of skills, time constraint.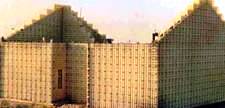 Depicts the emergency bamboo housing designed by Lynch for Tsunami victims in 2005.

Source

: Peter Lynch is a former head of the Graduate Architecture Department at The Cranbrook Academy of Art in Michigan. http://www.ccny.cuny.edu/library/Divisions/Architecture/lynch.html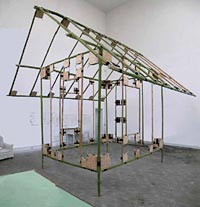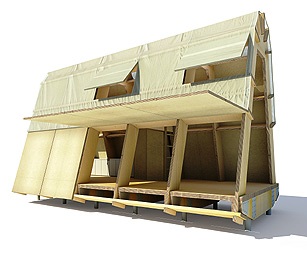 La maison en carton: The Cardboard House represents the reduction of technology and the simplification of needs. By demonstrating that we are able to recycle 100% of the building components at extremely low cost, the Cardboard House is a direct challenge to the housing industry to reduce housing and environmental costs.
Architecte: Col has been involved with students in the research and publication of 'Low Cost Country Home Building'; construction of the 'Autonomous House' at Sydney University; and several alternative technology fairs.
A 5-bedroom house made of recycled paper and cardboard, coated in clear plastic - Design by Adriano Pupilli - Affordable and sustainable housing option for students, artists and urban poor • recycled materials • waste reuse • transportable • cost AU$ 30K (US$ 20K) • made from paper pulp and recycled PET • simple assembly by occupants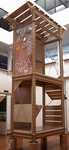 Containex -Autriche - Containers - Cabins: bureau-sanitaires
Module sanitaire - 2,43x2,98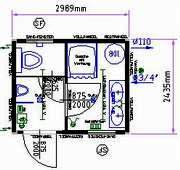 -------------------------------------------
Navigation
Previous / Home / Heading / Next





-------------------------------------------
...www.habiter-autrement.org > Construction
Contact pour HA: lreyam@gmail.com